Champ Day

*** CHAMP DAY: THE LAKE CHAMPLAIN MONSTER FESTIVAL***
Join us in PORT HENRY, NY on the shore of beautiful LAKE CHAMPLAIN
for LEGENDARY FUN!
Champ Beach Park & Campground, Beach Road, Port Henry, NY
2022 Festival Date To Be Announced
This annual festival offers fun for everyone, and perhaps even a chance to
spot Champ as you enjoy our lakefront celebration!

OUR HEARTFELT THANKS AND SINCERE GRATITUDE
to everyone who came together to make this year's festival
the BEST CHAMP DAY EVER!
YOU ARE ALL CHAMP DAY CHAMPS
and we could not have done it without you!
Our Sponsors & Partners:
Tri-State Folding Partitions, The Barns at Edgemont,
Red Brick Cafe & Village Inn, TrailNorth Federal Credit Union,
Foote's Port Henry Diner, Cheever Country Gardens,
Home of Champ Store, NBC5,
Linda Smyth, Catherine Sprague,
Andrea Anesi, Pam Lemza Putnam
Our Volunteers:
Alix, Ronnie, Pastor Ric, Jackie V., Jackie K.,
Bernadette, Payton, Zoey, Paul, and Kyle
Our Selfie Station Backdrop Artists:
Brothers Gaddor, Pam Lemza Putnam, Marcy Jarvis
Our Local Entertainer: Penelope the Clown
Our Featured Artist/Vendor: Pam Lemza Putnam
Our Crypto Cave Meet & Greet Guests:
Kenney W. Irish-The Cryptopunkologist, Karac St. Laurent,
Aleksandar Petakov, Paul Bartholomew
Our Kids' Activities Guest: Punky Noodles
Our Champ Day-Downtown & Around Town Businesses:
Brothers Gaddor Studio & Store, Port Home Goods, Moriah Pharmacy,
Safe Haven Nutrition, Mountain Lake Consignment & Engraving,
Stewart's Shops, Foote's Port Henry Diner
Our Town of Moriah Officials, especially Councilman Matt Brassard
Our Town's Champ Beach/Port Henry Campground Managers:
Tammy, Norm, and Sherry
All of our participating Champ Day Vendors & Food Trucks
EVERYONE WHO JOINED US FOR LEGENDARY FUN!
And our Moriah Chamber of Commerce Champ Day Committee:
Pam Lemza Putnam, Kyle Miller, Andrea Anesi,
Catherine Sprague, Lohr McKinstry
Champ looks forward to a sighting of YOU in 2022!

Like and Follow Champ Day - The Lake Champlain Monster Festival on Facebook for all the latest updates!
QUESTIONS ABOUT THE FESTIVAL? INTERESTED IN VOLUNTEERING OR JOINING THE CHAMP DAY FESTIVAL COMMITTEE?
EMAIL: champdayfest@gmail.com
Moriah Chamber of Commerce 2021 Champ Day Committee Members:
Lohr McKinstry, Pam Lemza Putnam, Kyle Miller, Catherine Sprague, Andrea Anesi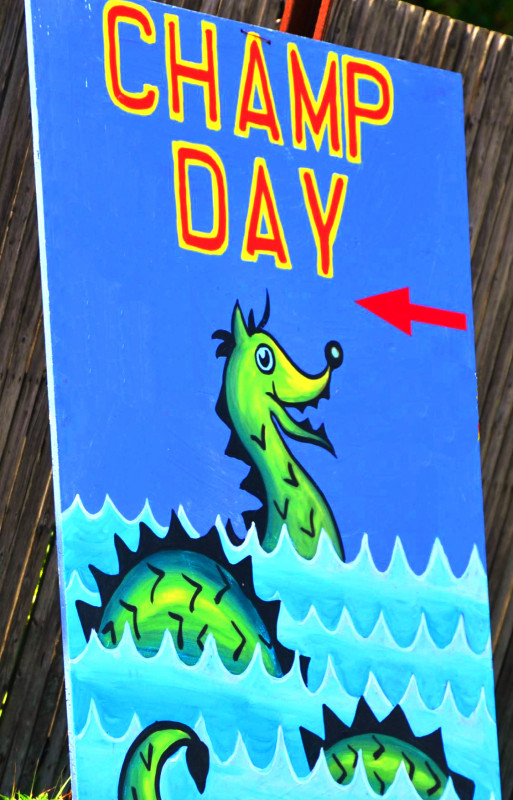 ---
This site is maintained by the
Moriah Chamber of Commerce.