Events
Annual Champ Day Festival - Held in Port Henry, NY on the shore of beautiful Lake Champlain. Celebrate our most famous resident, Champ, the Lake Champlain Monster. Visit the festival page for more info: Champ Day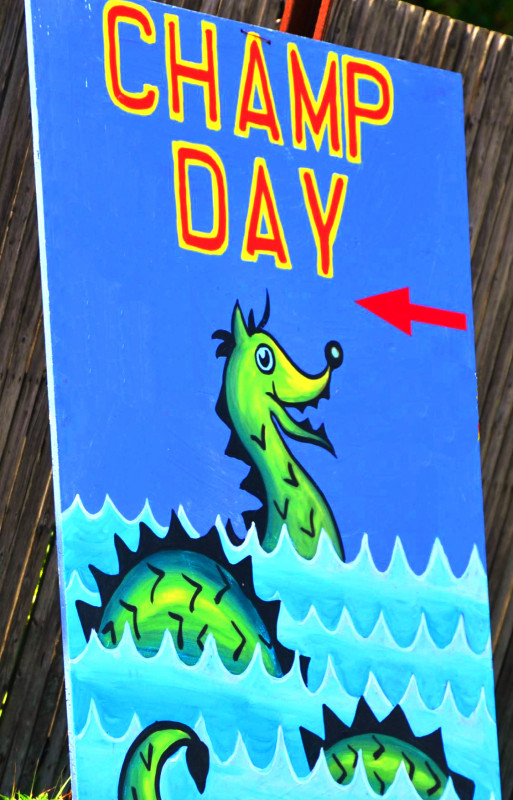 Port Henry/Moriah Area Lodging:
Broad Street AirBnB, 617-504-2251, Book through AirBnB - 3 bedroom apartment in the heart of the village of Port Henry, sleeps up to 6 3259 Broad Street, Port Henry, NY
Edgemont B&B, , 518-503-0688 - Victorian bed & breakfast offering 5 rooms
Edgemont Road, Moriah, NY
Collins Motel, 518-546-7805 - Motel and cabins
NYS Rte 9N, Port Henry, NY
Village Inn, 518 618-6757, 1 Star Way, Port Henry. 4 rooms in the center of the Village, with Red Brick Cafe.
Learn to Sail
The North Cheever Sailing Club has racing every Wednesday (weather permitting) June to mid September. The races run from around 6pm to 7:30 PM; the course is directly off the Port Henry Pier and NYS Boat launch site. Port Henry is home to a fleet of six J24's "The World's Most Popular One-Design Keelboat." We are looking for sailors. Sailing/racing experience is helpful but not necessary. We will help you get started and practice skills with weekend "Learn to Sail" clinics. Come to the old Velez Marina, now newly renovated Port Henry Marina, (just north of town) Wednesday evenings 5 PM starting mid-May. There is no cost.
Contact us: e-mail: phj24@earthlink.net for details and "Learn to Sail" schedule. Also look for the North Cheever Sailing Club official Facebook page.
Search the comprehensive calendar...
...to find out what's going on throughout the region. Listings are from any and all organizations and program sponsors, so there will be events of interest to everyone.
Want to enter your event listing? Go here or read the instructions.

Page 1 – Displaying 1 – 6 of 6
This site is maintained by the
Moriah Chamber of Commerce.