Historic Buildings
A Museum of Architectural Styles—
Touring Port Henry's remarkable buildings
In the late19th century, Port Henry was one of the wealthiest villages in New York. It was here that the founders and executives from the Witherbee & Sherman Mining Company built their houses, attended church, and supported new business. The lives of miners who worked for them in Witherbee and Mineville were far less affluent and their work, far more dangerous.
Witherbee & Sherman founded civic institutions, built modern housing for workers, and subsidized public amenities such as golf courses, parks, and cemeteries. In doing so, they followed the path of many paternalistic business leaders of the 19th century including Andrew Carnegie and J.P. Morgan. For this reason, Port Henry is home to a rich array of what historic preservationists call "High Style" buildings, namely houses and public buildings designed by architects.
Although relatively smaller than their city counterparts, Port Henry's public buildings express superb craftsmanship both inside and out.
Saint Patrick's Church, Port Henry, N.Y. Circa 1900.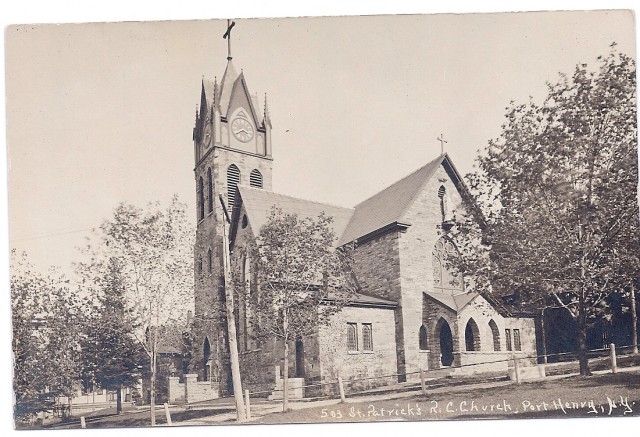 Port Henry and the Town of Moriah are home to many generations of Catholics. For over a century, Saint Patrick's has been a spiritual home for hundreds of families of French-Canadian, Italian, and Hungarian descent among others. Today, the church remains a vital community center with rich music, social service, education, and worship programs.
The Sherman Free Library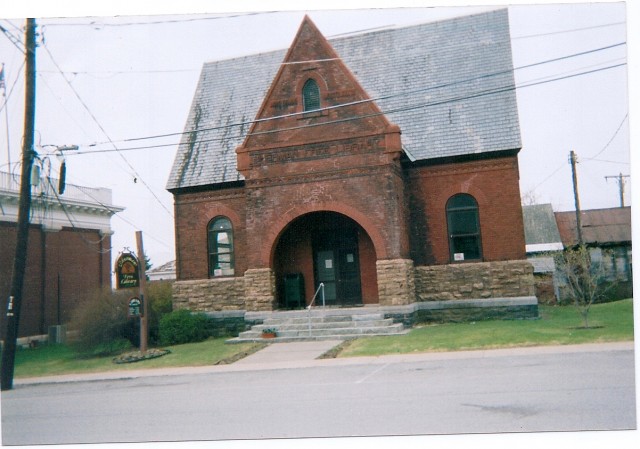 Designed by architect S. Gifford Slocum of Saratoga Springs (1854-1920), the Sherman Free Library's slate roofs, portico arch and semi-circular window transoms express a kind of English Victorian aesthetic suited to a college campus. Building styles are often hybrids and difficult to define. It's interesting to note that when it opened in January, 1887, the New York Times described Port Henry's new library as "Gothic." Visit the interior to see a beautiful beaded board vaulted ceilings and original cabinets and furnishings.
Mount Moriah Presbyterian Church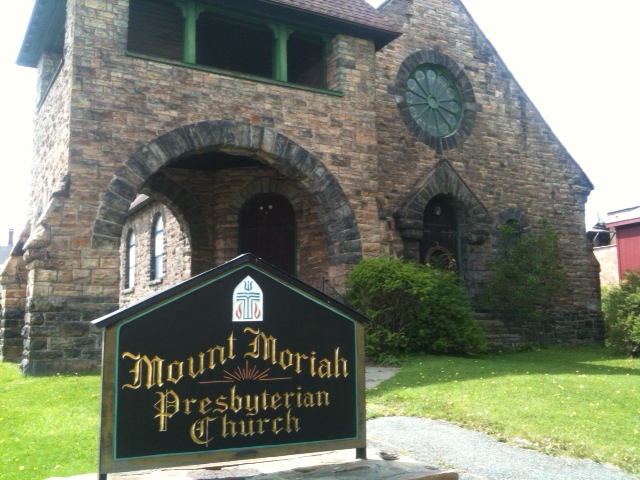 Also designed by S. Gifford Slocum, the Mount Moriah Presbyterian church reflects the "Romanesque" style popularized by such architects as H. H. Richardson of Boston. Built of regional stone, the church appears to have grown out of the land, a kind of hand-crafted, distinctly American impression of "Roman" arches and engineering.
On Main Street, Port Henry, N.Y. Postcard. Circa 1905.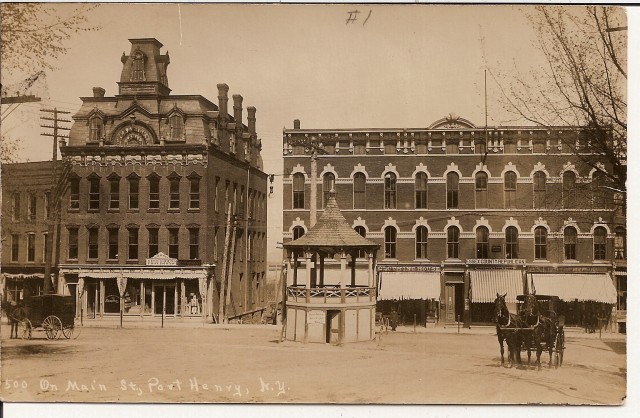 By the turn of the century, downtown Port Henry was one of the most urbane destinations on Lake Champlain. Looking east down Broad Street, this postcard view shows the first wooden bandstand, the Second-Empire style Lewald Opera House to the left and the Italiante-style Van Ornam & Murdock Block, which still stands today.
Main Street looking north. Port Henry, N.Y. Circa 1940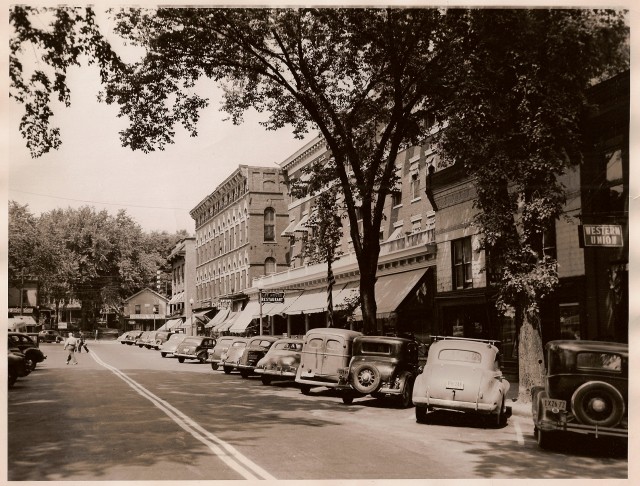 As a retail and entertainment destination, downtown Port Henry reached a new peak in the 1940s with dozens of shops, cafes, bars and a movie theater. This photo shows the advent of angled car parking that still exists today.
New Train Depot, Port Henry, N.Y.

W.H. Bigalow, photographer. Photo Circa 1895.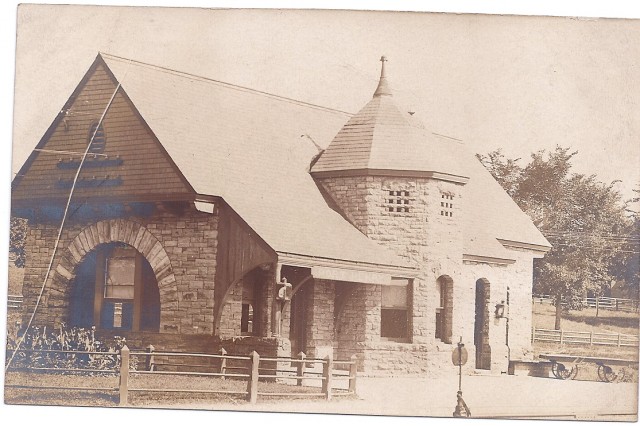 The prosperity from iron mining brought many impressive public buildings to Port Henry including the train depot still in use today for the Amtrak Adirondack line, connecting New York City and Montreal. Built in 1888 for the Delaware & Hudson rail line, Port Henry's Depot is Richardsonian Romanesque in style. Its arched windows, shingled gables, and angled cupola are superb examples of design and craftsmanship. Today, the Depot is also home to the Senior Citizen Center of Port Henry. Volunteer seniors help passengers to meet the daily north and southbound trains.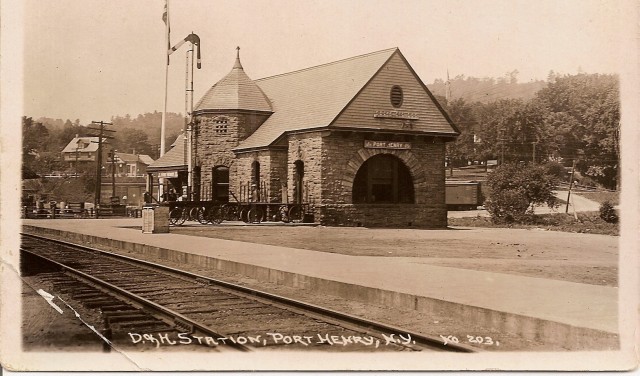 Moriah Town Hall (Formerly the headquarters of Witherbee Sherman & Co.)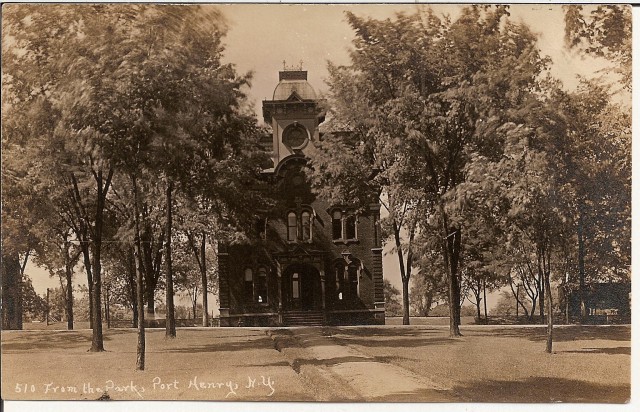 Moriah's Town Hall borrows heavily from the traditions of European history while being very much of its time and place in the New World. Next door, the old, Italianate style carriage house was designed to resemble (believe it or not) a 17th century Italian villa. Yet, it was used as a mineral testing laboratory—a very advanced use of technology for the time. Today, the carriage house is home to the fascinating Iron History Museum and the Town of Moriah Historical Society.
Glens Falls National Bank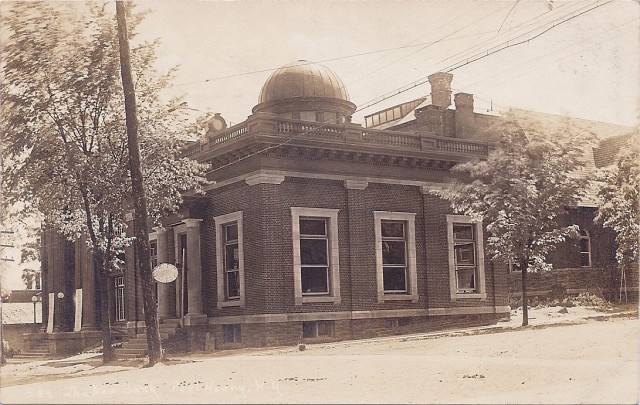 Shaped like a classical treasure box with dome on top, Glens Falls National is a superb example of the Georgian Revival style popular on American college campuses and for city halls in the early 20th century. Perhaps, the 18th century mansions of Charleston—or even Jefferson's Monticello—influenced the architect. When visiting, note the cornerstone with the date of construction, 1908, and the quality of the paneling and cabinetry inside.
Wheelock's Chevrolet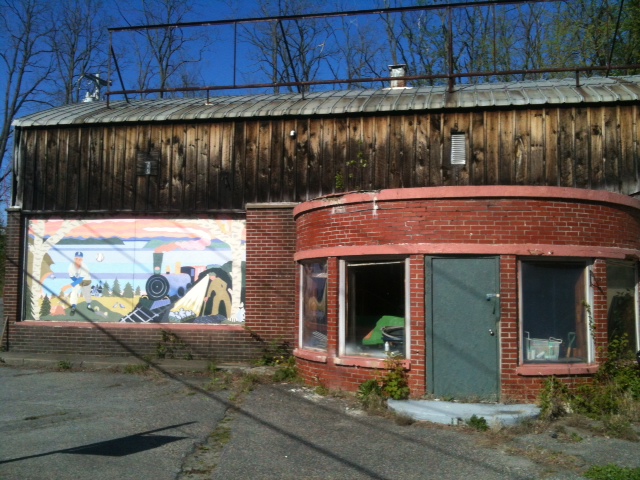 ------------------------------------------------------
25 Yes 25

New 1954 Chevrolets on Our Lot

20 Different Color Combinations

No Salesman - No High Pressure

All Of Our New Cars Have Price Tags on their Windshields

We Want You To Shop and Compare

But Be Sure and Get Our Figures before You Decide To Buy

Wheelocks Chevrolet

PortHenry, N. Y. Open til 9:00 p. m.
— From a 1953 newspaper advertisement for Wheelock's Chevrolet
Now the headquarters for the production of Star Trek productions, the former Wheelock Chevrolet dealership is an example of the "art moderne" style popular in the late 1930s and 40s. The garage itself is a vaulted, most likely prefabricated structure that could have also served as an airplane hangar or farm building, but which was often used for small town car dealerships. Across the country, many companies began by making modular buildings to suit the needs of gas stations, hangars and garages.
Today, Wheelock's works so well for film production because its barrel vaults are "clear-span" thereby opening up a great deal of space for sets and film shooting. The "moderne" element of the Wheelock's building is its front, semi-circular lobby that was, no-doubt, custom designed and built on-site to welcome people to the larger garage. Its curving form looked like the cars sold inside. Constructed of red brick with broad show windows, this small showroom/lobby was brightly lit for decades. On winter nights, it glowed and announced Wheelock's product line and services to passersby. Wheelock's garage will greet visitors again with a mural designed by our local artist, Linda Smyth, with the help of volunteers. Johny Podres, a native son of Moriah, throws a baseball right towards you. He played a major role in the historic Brooklyn Dodgers 1955 World Series victory.
One of the Nation's Oldest Diners: Foote's Port Henry Diner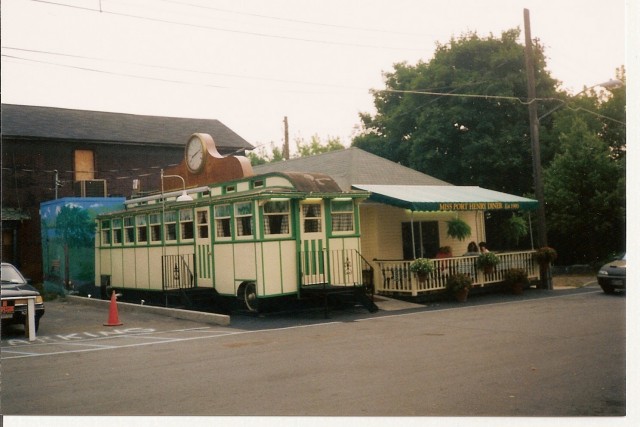 Diners were another pre-fabricated architectural response to cars and roadside travel. But Port Henry's diner, dating from 1926 and built by the Ward & Dickinson company, predates many of the sleek metal diners that you see across New England. One of the oldest surviving diners in the country, our diner was originally a lunch wagon that could be pulled, by truck or horses, out to work sites and its wheels are still visible. This is one reason that that this particular diner is well-known among historians. In 1933, it was placed permanently in its location on St. Patrick's Place.
In 2000, the diner was restored and won an honor award form the Adirondack Architectural Heritage. Its marble countertops, original cabinets, and sunny windows create a dining environment that is unique nationwide. Its unique clock and exterior serves as a real draw for history-oriented tourists and travelers.
The Foote Block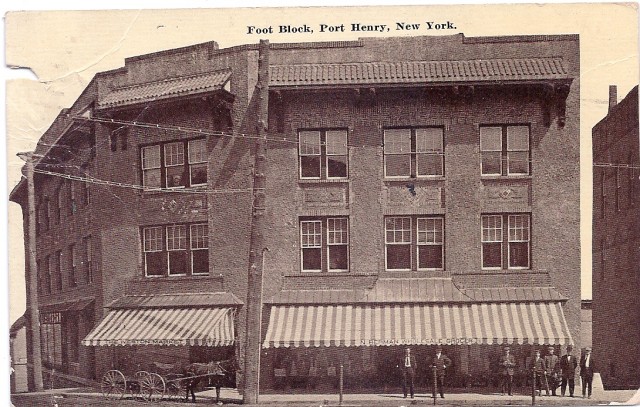 The Foote Block is home to Celotti's Wine and Spirits. If you look up from the sidewalk, you will see green inset tiles and windows in sets of twos and threes that have six glass panes in the upper half and a single pane below. The sides of the building are covered with stucco and the parapet at the top is level with elevated elements at the center of each façade. The Spanish tile eaves that once adorned the cornice near the top are gone now, probably because of the cost of maintaining them.
All of these elements reflect the Craftsman-Style popular between about 1905 and 1925. Based on a reaction to rapid industrialization, Craftsman furniture and architecture expressed the return of hand-made elements (hence the tiles) and a sense of texture. The Foote block is a relatively rare example of Craftsman design applied to a commercial block in our region. Newer than many of its neighbors, the Foote block was built in 1910 to replace the former opera house block on the site that burned a few years earlier. Like many of Port Henry's old commercial buildings, all of the Foote Block's storefronts are very "modern" in the sense that they are flexible and able to accommodate many types of tenant stores or offices. And indeed, if you look at the postcards of the Foote Block and check old city directories, you will see that many businesses have occupied each space.
Walter C. Witherbee house. Port Henry, N.Y. Circa 1900.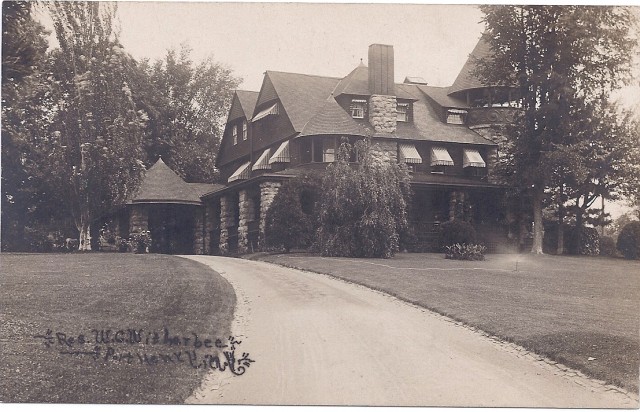 Set high on Port Henry's hillside and surrounded by tall pines, the Walter C. Witherbee house is one of the finest Shingle-Style residences in the Adirondacks. Built of local stone with finely-detailed woodwork, the Witherbee House was used by the local Knights of Columbus and American Legion for decades. With over a dozen bedrooms, servants' quarters, and grand living areas, the Witherbee house is currently under renovation.
Take the Tour
Even though Port Henry is a small village, we are home to some important architectural styles with examples that are increasingly rare. Although most of us might not think of an old car dealership or a glass façade as "historic"—they tell important stories about American culture, travel, and technology in the century past.
This site is maintained by the
Moriah Chamber of Commerce.