The Banners
Port Henry Children Complete History Banners
12 Banners/12 Stories Now on Display
Thanks to a New York State Developing Community Arts Grant, Moriah kids of ages 8-12 have created 12 beautiful banners about the history of Moriah and Port Henry.
Called, "12 Banners/12 Stories", the project was led by Port Henry artist Linda Smyth and sponsored by the Sherman Free Library. "I knew kids would really want to do this because many of them take pride in their town," Smyth says. During the winter, Smyth and the kids met at the Town of Moriah Historical Society to discuss possible themes with the help of Town Historian Betty La Moria and with historic insights from Joan Daby and Archie Rosenquist. Then they set to work, each child developing a painting.
The results are stunning. Each weatherproof banner includes the name of the young person who created it and the title of the particular historic theme. Sarah Tichonuk gave helpful advice with graphic design. The banners are on display along highway 9N/22; 6 banners to the North of the Village and 6 banners to the south. The banners will remain up throughout the summer.
"If we receive enough local donations," Smyth explains," we can expand this project to make custom banners for many more locations across Moriah." From mining to silent movies to recreation, we have a great history here. We also have very talented young artists! Congratulations to all.
The Artists (and details from their banners):
"Railroads" by Alethea Goralczyk
At Christmas a holiday train stops at Port Henry- there are lots of people and Santa gives out presents- my mom, my dad, my sister and I go every year-when I was little I went on a train - trains are important in our area because they are a way for people to visit our town or people here could visit places like New York City or Montreal. Trains used to be fueled by coal. My great grandpa remembers the thick black smoke that came from the trains- during the depression people would jump on the trains to ride to a new place to find a job. I think trains are important to our community.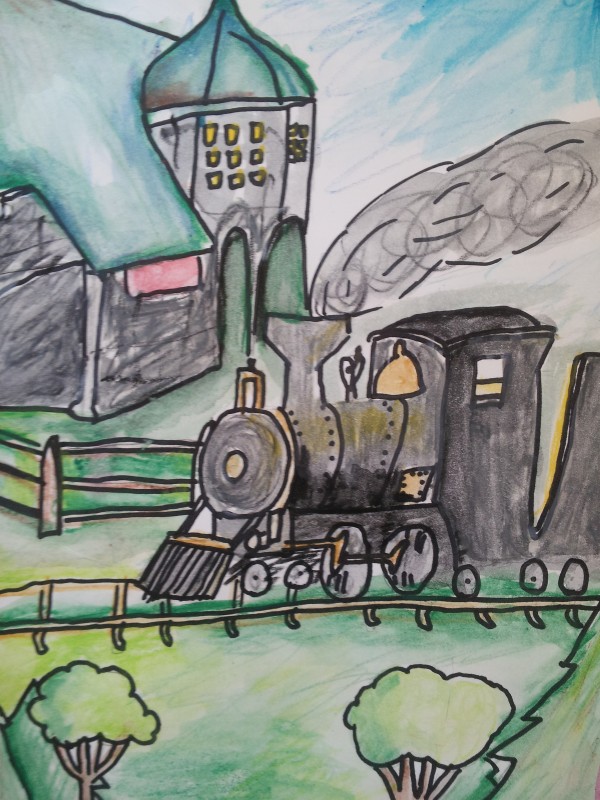 "Lewald Opera House" by Sophie Bryant
There used to be an opera house in Port Henry. People used to come from all over the area to see performances put on in the Lewald Opera House. The opera house was built in 1874, and it cost 30,000 dollars to build it. The theater itself was the third and fourth floor of the building. The second floor was used for offices, and the first floor contained two stores. The Port Henry Opera House only lasted thirty-six years. It burnt down on December 12th, 1910. After the opera house burnt down, another building was built. That building also housed several stores including a grocery store, a hardware store, and a yoga studio. Very few people know that there was once a famous opera house in Port Henry.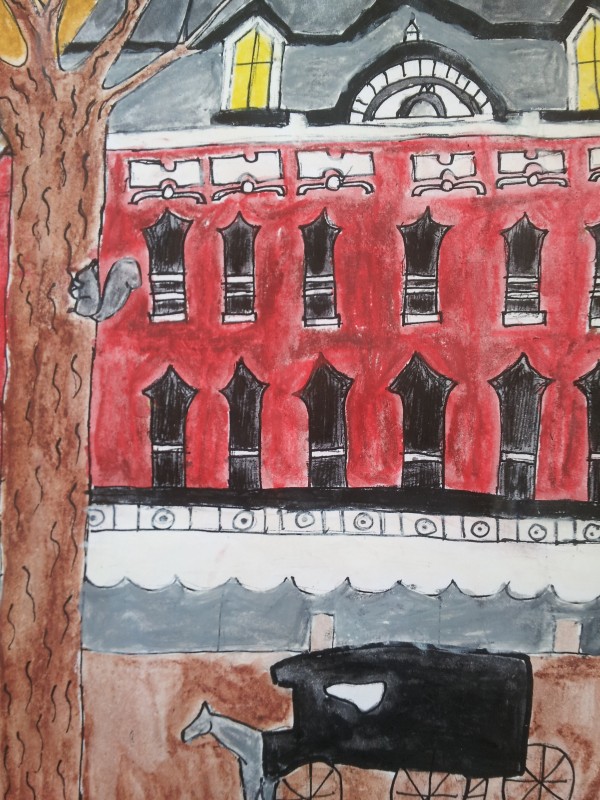 "Raymond Buzz Wright" by Caleigh Lamour
Raymond Wright, known as "Buzz" Wright, was born on December 5, 1945- Buzz was a veteran of the Vietnam war. Buzz received the congressional metal of honor. At that time Lyndon Johnson was the president and he gave Buzz the congressional metal of honor— Buzz died Friday September 24, 1999.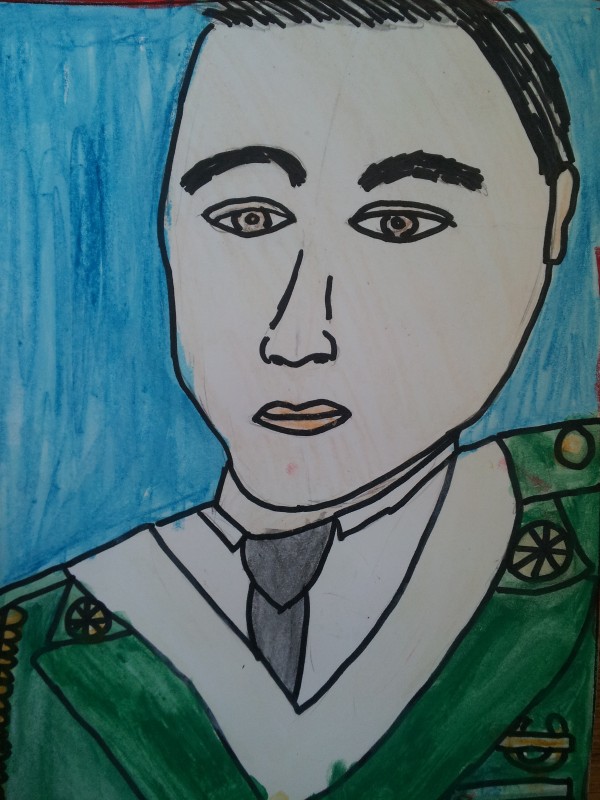 "Christ Episcopal Church" by Karen King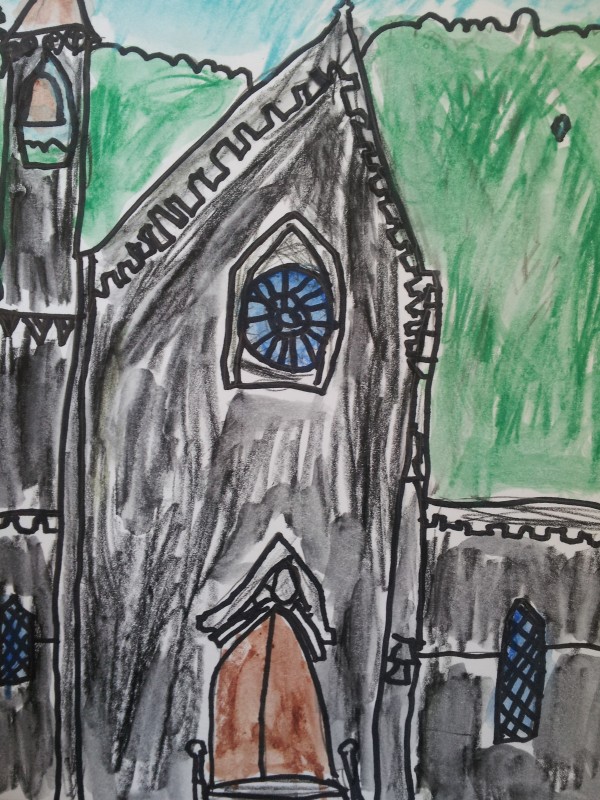 On May 5, 1872 the community got the money to build a church. The first church service was held on November 14,1874. All episcopal churches are designed like a cross, to view the cross you would have to fly over it by plane or helicopter. Have you ever wondered why the windows were broken? The answer is kids, they are also the reason why the rope that made the funeral bell ring was cut. Kids would like to ring that bell and it would make many people sad, so they cut the rope and the bell rang no more. Actually the bell still works just not the one for the funerals. Oh Did I mention they have two bells? Well they do! Their last service was held April 18, 1993.
I would like to Thank Mary Consadine for all the information I received.

"High School" by Eden Goralczyk
The Port Henry High School was built in 1917. In the basement were gym classes, music classes and shop classes. In the second floor there was
kindergarten through eighth grade, and the top floor had all the high schoolers. They had separate entrances. The boys had to go on the left
and girls had to go on the right. There was an elderly couple that taught the high school kids how to ballroom dance. They made you take
the class. They put on shows and there was an orchestra, and they had to wear uniforms. My grandfather went to Port Henry High School. He said
it was a good school. I wish I could go there. I wish I could have seen it. It caught on fire and then got torn down. That happened in 1968.
"Johnny Podres" by Michael Demaris
Johnny Podres was the M.V.P. of the 1995 World Series. And my father mowed Johnny's lawn. I have a plaque of the 1995 Brooklyn Dodgers in my room. My Grandpa Joe gave me the plaque.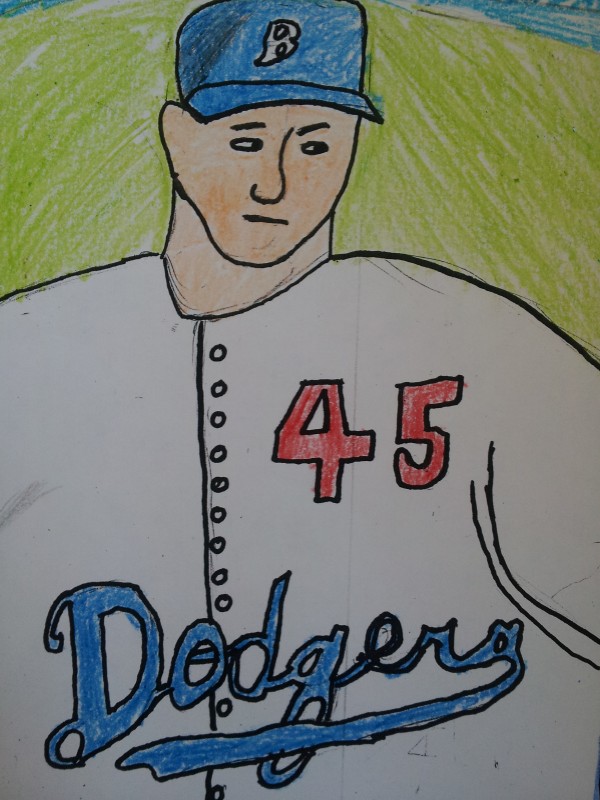 "Champ" by Emma Callahan
Champ is a creature that lives in Lake Champlain. Samuel de Champlain
saw Champ in 1609. There have been hundreds of recorded Champ sightings.
Native Indians called him "chaousarou" and the Abenaki tribe called him
"tatoskok".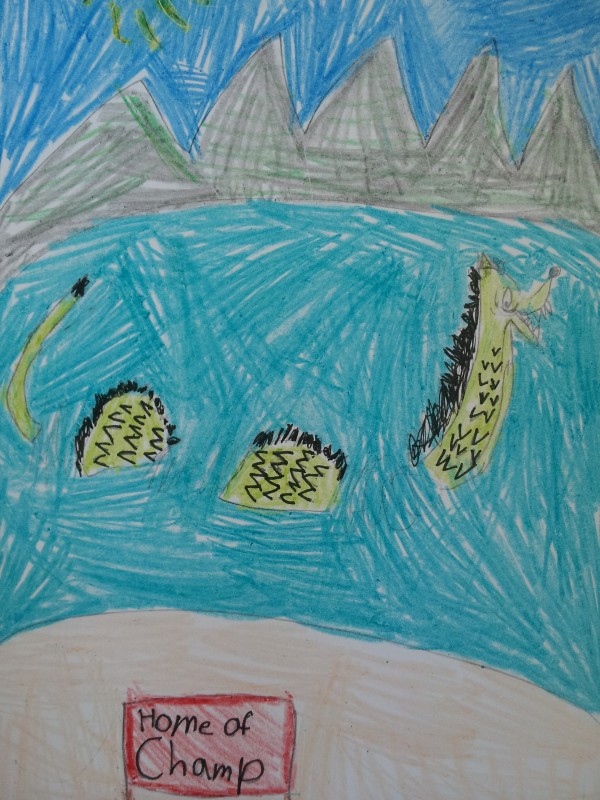 "Maritime" by Ralph S. Baker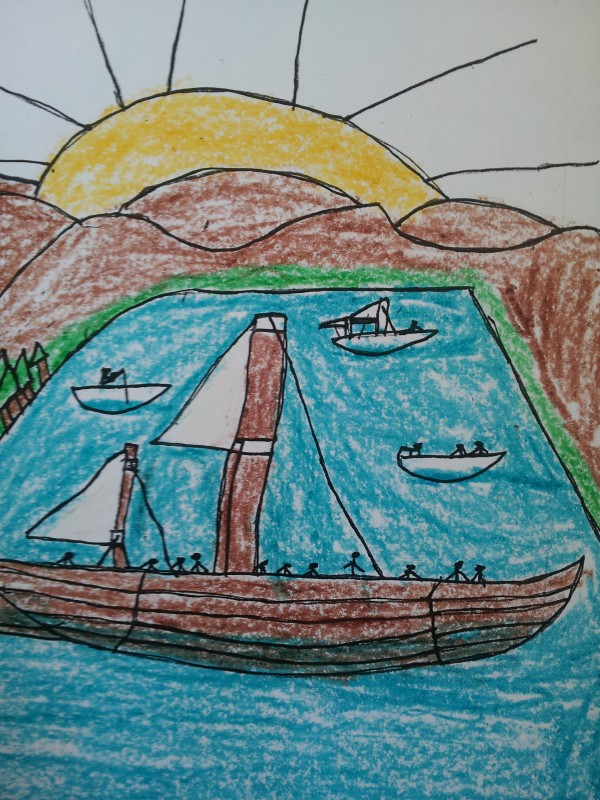 "Witherbee Mansion" by Dyani Mae Bryant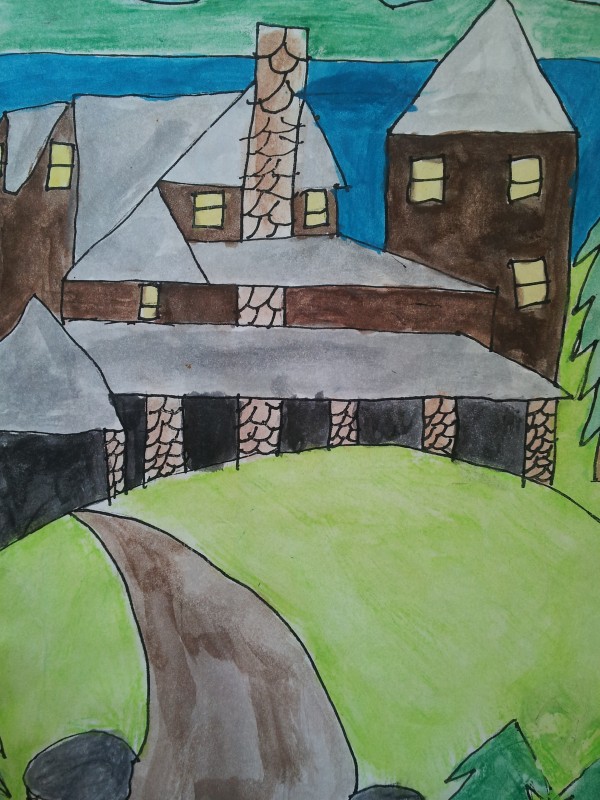 Going to my grandparent's house on William Street in Port Henry, NY, I always wondered about the big stone building on the corner of Stone Street. It must have been really something at one time. Then one day, I was asked to help Linda Smyth and Jeff Kelly complete a project called Mountains of History. We got to draw a historical place in the Village of Port Henry that is going to become a banner that will hang in the Village and then we have to write a little bit about our historical place. I was fortunate enough to get the big stone building on the corner of Stone Street that I have wondered about for all of my 11 years. [ Please read Dyani's complete essay; opens in a new window or new tab ].
"Mining" by Jade Morin
Moriah's high grade iron ore was world famous. The Champlain Canal, opened in 1823, provided cheap water transport south to the Hudson River in Troy, N.Y. The ore also produced boom towns in the wilderness. Between 1874 and 1922 daily production of pig iron grew from 41 tons to 500 tons. Moriah, Port Henry, Mineville and Witherbee thrived on this bounty. What it generated can still be seen in everything from concrete blocks, to tailings piles and civic architectures.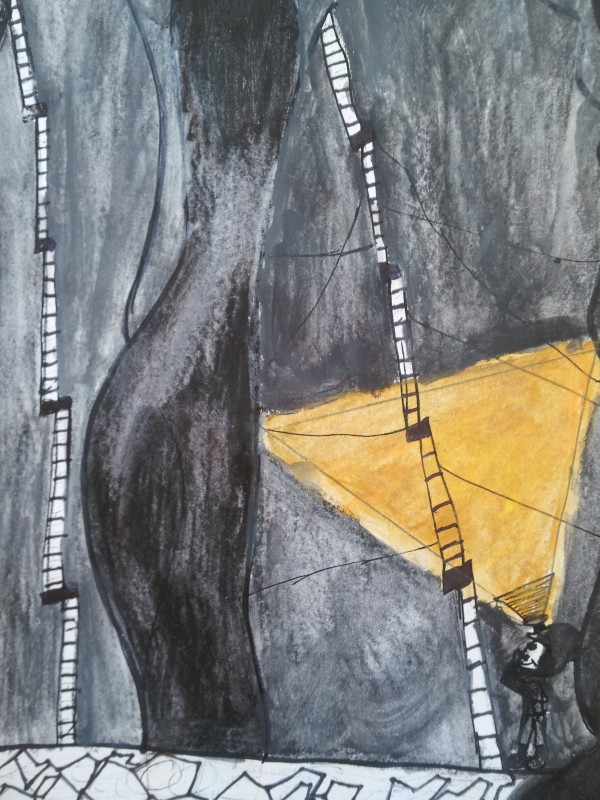 "First Bandstand" by Reagan Garrison
This bandstand was located in the center of the village of Port Henry. For several years they held concerts for the people to enjoy. After this bandstand was torn down a new bandstand was built in 1906.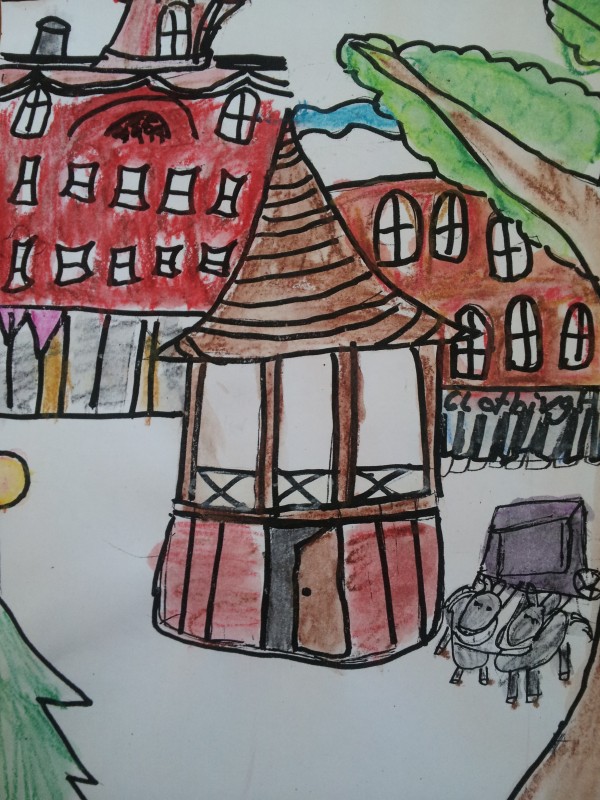 "Ice Fishing" by Sarah McCue
Every year the boys from my family go ice fishing. My brother and my uncles go. But way back the ice fishers went because they wanted money. They would put the fish, called smelt, on a train and ship them to the big city. But my family does it for fun.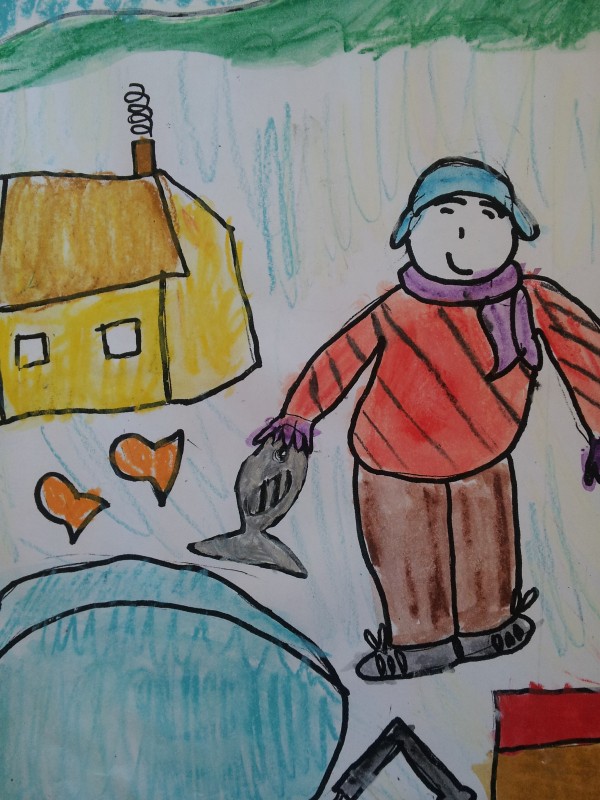 This site is maintained by the
Moriah Chamber of Commerce.