Chamber of Commerce
Photo Exhibit Open House
MORIAH'S MINING HISTORY AND HAMLETS
A Photo Exhibit of our Mining Heritage
4317 Chamber of Commerce
Main Street Port Henry, NY
Meet our local historians, share memories, learn about our past!
EVERYONE WELCOME!
Port Henry's New "Old-Fashioned Labor Day"
Port Henry returned to its Labor Day roots dating back to 1889. "We're trying something new and old this year, bringing the festivities right down to the village beach," says Tim Bryant, President of the Moriah Chamber of Commerce.
Instead of amusement rides and bands from elsewhere, Moriah residents participated in games, races, raffles and even a historic Longboat ride in partnership with the Lake Champlain Maritime Museum.
The party kicked off on Saturday (8/31/13) with live music and then fireworks launched from the Port Henry pier. On Sunday, September 1st, the old-fashioned Labor Day came to the Village Beach with an array of kid's games in the morning and a chicken barbeque from 11-1.
At 1 PM the focus shifted to downtown Port Henry with the traditional Labor Day parade.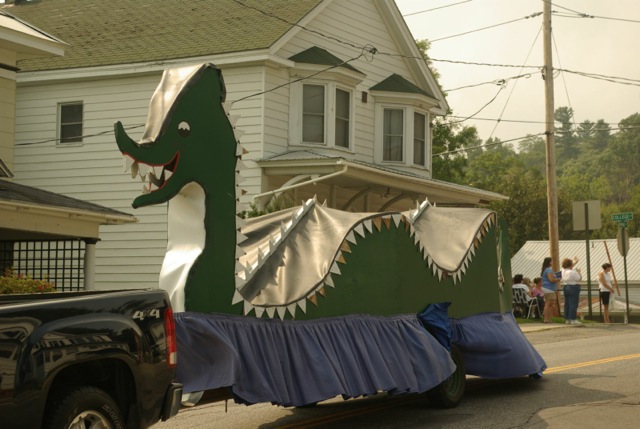 The parade featured the village's famous green Champ float along with historic and new fire equipment from area fire departments, sailors from the North Cheever Yacht Club, and a new first: a mint condition 1968 Plymouth Road Runner. We also had miniature donkeys from Butternut Ridge Farm near Peru, NY. Butternut Ridge is a ministry of animal therapy for local nursing homes and hospitals founded by the Rev. Kenneth Parker.
The parade's musical talent included the Wadhams Waddlers—a popular new folk band known for their range of instruments including everything from harp to violins. The Waddlers also performed later in the afternoon back at the beach, as games for kids and adults continued all day. Volunteers and local sponsors organized a coin search, three-legged race, cardboard boat race, three on three basketball tournament, a chance to meet and pet the donkeys, and a tug-o-war. There was also a flea market, and Penelope the Clown, a mainstay of local events.
Celebrating Moriah's history on Lake Champlain, the Lake Champlain Maritime Museum sent across the lake one of its famous student-built Champlain Longboats complete with a captain/interpreter who took visitors out on the water to experience the teamwork and skill needed to row a gig.
"We really want this to be about playing and meeting our neighbors and not spending a lot of money," Bryant says. "We want Labor day to be a two-day summer party and a real break from work."
Moriah's local band, Loose Connection, topped off Sunday with an evening performance at the beach.
Port Henry's Labor Day traditions date back to 1889 when the village put on its first parade. Originally intended to honor workers and provide amusements for their families, Labor Day became a national holiday five years later in 1894. "As one of the most historic iron mining towns in the country, it makes sense that Labor Day is a big deal here," Bryant says. "It also makes sense that even with the Internet and all, we still like a big old-fashioned holiday."
Port Henry/Moriah Chamber of Commerce
The Town of Moriah/Port Henry Chamber of Commerce was formed to strengthen area businesses and promote the community. Please visit our members.
Join the Chamber Today ! (Application available here).
Contact Us:
Tim Bryant, President
Office Address: 4317 Main St. Port Henry NY, 12974
Mailing Address: PO Box 34 Port Henry NY, 12974
You can use the Contact Us page to send a message or ask a question. Or e-mail to Moriah Chamber of Commerce, MoriahChamber@gmail.com
(518) 250 - 1050 (Note: from some locations, you may need to dial all 10-digits).
Or, for regional information 1-866-THE LAKE (866 843 5253)
Business Resources
Moriah Business Park
The Moriah Business Park is a 32-acre park ready for immediate development. The park is located 11 miles from Interstate-87, 4 miles to rail access, 50 miles to the Burlington International Airport, and 120 miles to Montreal International Airport. The Moriah Business Park currently is home to a 22,000 square foot spec. building occupied by Pre-Tech Plastics of Vermont. Lot #2 at the park is home to the new 4,800 square foot Moriah Health Center. Lots 3, 4, 5, 6 & 7 are pre-permitted through all applicable regulatory agencies for immediate construction of up to 10,000 square foot buildings. Two or more lots may be combined for larger buildings. Each lot offers municipal water and sewer (Town of Moriah) along with 3-Phase power supplied by National Grid. Cable, high speed internet access and broadband are available at the park.

Contact the Essex County IDA for more information:
PO Box 217, 7566 Court Street, Elizabethtown, NY 12932
(518) 873-9114
This site is maintained by the
Moriah Chamber of Commerce.