Welcome
The Town of Moriah on Lake Champlain welcomes all!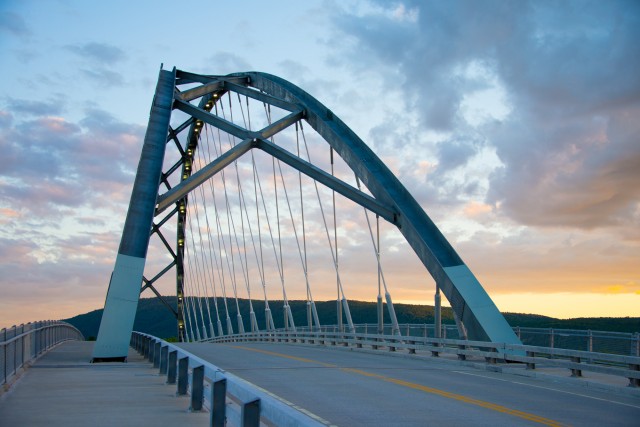 © by Mike Niman. Used by permission. Do not copy.
NESTLED JUST NORTH OF THE BEAUTIFUL NEW CROWN POINT BRIDGE, the Town of Moriah and the Village of Port Henry offer the best of Lake Champlain and the Adirondacks.
This website helps you to learn about life and recreation here along with the rich history of Port Henry and Moriah's distinctive hamlets.
VISIT
As visitors have done for centuries, take some time to search for Champ, the famed Lake Champlain monster rumored to live off the shores of Port Henry. Even if you don't spy our famous resident, you WILL find amazing lakefront campgrounds, quaint lodging, a variety of restaurants, endless outdoor recreational opportunities, historic sites, attractions, public art and hometown events! And, for a complete list of businesses, search the entire directory.
TOWN AND VILLAGE
Comprehensive municipal resources for both the Town of Moriah and the Village of Port Henry.

Labor Day
Our 127th Labor Day Celebration:
Saturday, Sept. 3, 2016:
Sailboat regatta at Port Henry Marina
Book Sale, Sherman Free Library, 10AM - 2PM
Mutton Hollow parade at 4 pm
Music by the pier before the fireworks
Fireworks at dusk
Boat parade from Van Slooten Marina
Sunday, Sept. 4:
Sailboat Regatta at Van Slooten Marina
Parade starts at 1 pm
Music after the parade
Vendors on Church St. 10 am to 3 pm
Many many thanks to our generous Sponsors without whom this Celebration would not be possible:
Platinum Level - $300+
Champlain Contracting
Port Henry Fire Department (sponsors Police Pipes & Drums, Plattsburgh, NY)
Port Henry Fire Department Auxiliary (sponsors MacBoston Engine and Flag)
Stewart's Shops
Ticonderoga Federal Credit Union (sponsors Penelope the Clown)
Gold Level - $200+



Silver Level - $100+

Bryant's Lumber
Celotti's Wine and Spirits
Harland Funeral Home
Mineville Oil Corp
Sandra Kukie
International Paper
Gregory's Pavement Marking
Bronze Level - $50+
Port Henry Marina
Grover Hills Deli
Salerno and Sons
Foote's Port Henry Diner
Fashion Corner Bridal
Decker's Flats Greenhouse
Others
Knights of Columbus Auxiliary
For more information contact the Moriah Chamber of Commerce at 518-250-1050 or moriahchamber@gmail.com
Learn to Sail
Port Henry is home to a fleet of six J24's "The World's Most Popular One-Design Keelboat." This year racing every Wednesday evening and many weekends is scheduled. We are looking for sailors. Sailing/racing experience is helpful but not necessary. We will help you get started and practice skills with weekend "Learn to Sail" clinics. Come to the old Velez Marina, now newly renovated Port Henry Marina, (just north of town) Wednesday evenings 5 PM starting mid-May. There is no cost. More info.


This Website
This shared website includes the official pages for both the Town of Moriah and the Village of Port Henry, as well as online resources for residents and visitors. Additional pages have been developed by the Moriah Community Economic Development Group (McEDGe) and the Moriah Chamber of Commerce.
Contact us:
Moriah Chamber of Commerce, (518) 250-1050. (You may need to dial all 10 digits).
McEDGe, (518) 546-3341
or, use the "Contact Us" form.
Other Websites and Videos of Interest
Public meeting held Apr. 8th, 2015, to explain the Mineville Pumped Energy Storage Project:
This site is maintained by the
Moriah Chamber of Commerce.