Witherbee Mansion
History of the Walter C. Witherbee Mansion by Dyani Mae Bryant
(with help from my grandfather, Charles M. Bryant I, and Town Of Moriah historian, Mrs. Joan Daby)
Going to my grandparent's house on William Street in Port Henry, NY, I always wondered about the big stone building on the corner of Stone Street. It must have been really something at one time. Then one day, I was asked to help Linda Smyth and Jeff Kelly complete a project called Mountains of History. We got to draw a historical place in the Village of Port Henry that is going to become a banner that will hang in the Village and then we have to write a little bit about our historical place. I was fortunate enough to get the big stone building on the corner of Stone Street that I have wondered about for all of my 11 years.
I started with my grandfather, who most people know as Charlie Bryant. I call him "Poppy". Poppy knows everybody, and he knows a lot of things. I called Poppy and told him what I was doing, and he said, "let me call you back." He did do just that about a 1/2 hour later, and told me he had some information at the lumber yard and he would drop it off to me. I was shoveling the driveway when Poppy came, and he had the papers I needed to start my project. He went over all of the information he had to get me started on my project.
Poppy told me that there is a large dog kennel with dog houses and fencing, down in the woods behind the mansion. Mr. Witherbee used the dogs for hunting.
Poppy said that there was a large carriage barn on the property that was used for the horses, buggies and carriages. The chauffer for the horses, buggies and carriages was Mr. Patton, and he lived where Jack & Mary Harris now live on William Street. Behind Mr. Patton's house was an ice house, a wood shed, tool shed and a hot house where they grew plants and flowers. The florist for the mansion was Mr. Kirkpatrick and he lived on William Street in a house that is now owned by Jackie Anderson (daughter of Phil & Roxanne Vargo). Both Mr. Patton's house and Mr. Kirkpatrick's house had secret passages to the Witherbee property. Poppy thinks that some of the maids that worked for the Witherbee's were from Ireland and Germany.
Poppy said there was a swimming pool as you went in the upper driveway on the left near the fence where Jim LaPier lives now and has Jim's Body Shop. The pool is filled in now and gone.
Still wondering why anyone would build a house that big sent me to question Joan Daby, the Town Historian. Mrs. Daby e-mailed me a ton of information, which brought everything my Poppy told me to life.
Walter Craft Witherbee was the son of Silas Witherbee. He worked for the Witherbee-Sherman & Co. as treasurer and later chairman, and helped with the company's development. He was a very important man in all activities in Port Henry as well as New York State.
Walter Witherbee was no average man. Born in the well-to-do Port Henry family of Witherbee's in 1856, his boyhood was spent at the finest private schools his parents' money could buy.
Since his father was founder and co-owner of the thriving Witherbee-Sherman Company, one of the most productive iron-mining companies in the NYS, it meant quite a bit of cash was available. Enough cash to send young Walter to Berkley Business School and Yale University without him ever having to pay a cent. Graduating with honors from Yale in 1880, he returned home to Port Henry to find his father with a fine graduation gift for him, a big paying position on the Witherbee-Sherman board of directors, with a guarantee of becoming chairman as soon as his father decided to retire.
Walter made the most of the simple and well-paying situation. Using his newly acquired influence, he worked his way onto several high-profile positions with prestigious associations, ranging from NY University Club to Royal Arch Chapter of the Free Masons to a very secret society known as the Independent Order of Odd Fellows. He was also named president of Port Henry's Citizens National Bank, even though he never worked in that bank (or any other bank) in his life.
When his father retired from the board of directors of the Witherbee-Sherman & Co. in 1885, Walter assumed his presidential seat as promised, earning him automatic posts as Vice President of the Port Henry Iron Ore Company and the Lake Champlain & Moriah Railroad. Before long, he was one of the richest men in New York State.
In 1886, Mr. Witherbee took a fishing vacation to southern New York, which became a month-long side trip to New York City. Walter returned home with a unique prize "catch".......her name was Annie Gautier, daughter of a wealthy doctor and new bride of Walter Witherbee. Yet Walter had a problem. The house in which he was living in then (not the mansion) was not nearly large enough to raise a family. Within days of returning to Port Henry, he began making plans to solve this problem, plans involving the largest house ever built in the town.
Seven years later, "Ledgetop", or the Walter C. Witherbee Mansion as it is now known, was born. The grand house with it's spacious lot overlooks the village of Port Henry and the lake. Its wood shingled walls and roof with contrasting use of rough stone are characteristic of the Shingle Style, while the corner towers and porte-cochere with their conical roofs add to the elegance of the house. Situated on 5.13 acres, this Late Victorian, Queen-Anne-Shingle was designed in the style of the renowned architect Henry Hobson Richardson. The stone tower contains a 3' terra cotta band with ornamental scrollwork. The candle snuffer roof displays interesting shingle patterns.
Several immigrants that came to Port Henry and Moriah to work in the mines were skilled laborers and craftsmen. Some of the immigrants helped build the stone fireplaces and did the masonry work in the mansion.
Walter and Annie lived quite comfortably in their partial new home, with their four children. Fireplaces roared in every room of the first floor and the second floor nursery was said to be second-to-none for amusing the children. Japanese servants tended to the family's personal needs. One room housed Walter's rare gun collection; another was devoted to Annie's fine china.
A barn behind the house contained four ornate coaches and thoroughbred horses to pull them, as well as Walter's prize fox-hunting steeds Barney and Biddy.
It was also the winter quarters for the Silouan, the large houseboat that served as the family's floating summer palace. Lavish parties were held in the first-floor ballroom, and Walter was awarded the French Legion of Honor during the Lake Champlain Tercentenary Celebration, on the front steps. Many important people visited the Witherbee's, including US Supreme Court Justice Harry Kellogg, a summertime staple in the family's swimming pool.
All of this came to an end on September 28,1922, the day Walter C. Witherbee died. Annie remained in the home with one of their daughters, Annie Catherine, for approximately 20 more years, but she never entertained the way Walter did. In fact, she considered "Ledgetop" too far large for just two people. Finally, in the early 1940's she sold the giant home to the village, spending the rest of her life with relatives in a much smaller house. It was all downhill from there for the house.
Around 1945 the American Legion purchased this residence turning Walter's gun room into a bar and cut holes in the wall on either side of the bar, making it easier for the waitresses to get drinks. They maintained this beautiful residence for a meeting room, bar, and place where dances, dinners and receptions were held.
During World War II, the tower rooms were used as vantage points for monitoring air and water traffic coming down from Canada, but the remaining rooms on the top two floors were completely abandoned. When the Knights of Columbus bought the land in 1969, they demolished the barn, sealed off all the second and third story rooms and eventually drained the knoll top swimming pool.
Twenty three years later, the Knights found the house too large for the caretaking abilities and returned it to the Village, who in turn sold it into a new private owner, a man who never spent one day there. For 15 years, it was left to ruin, a large white elephant on the corner of Stone and Broad Streets, a deteriorating reminder of days gone by. On August 30, 1990, they sold it to Mr. Illiopolus of New Jersey.
Now, it seems those grand days just might be destined to return. "Ledgetop" was recently sold for over $1 million to a new owner - one who plans on returning the house to its rightful glory. A lengthy and costly renovation is planned, cleaning up the house and grounds but retaining its original 1890's character, with the long-term goal of turning "Ledgetop" into a bed and breakfast. If this new vision does indeed come to fruition, the mansion on Stone Street will once again become a showpiece of the Champlain Valley and ring with the voice of guests from around the world, a lonely house no longer. The grand house is currently owned by Mike Macken of Connecticut.
Yet if this house could talk, it would make a great movie about golden years gone by. Years when the now- dilapidated ruin was the finest home in Port Henry.
Years when people came from miles around to marvel at the imposing manor. Years when the pool was full of lake-water, tulips lined the freshly cut lawn and the grand hall was full of people, laughing and talking as they enjoyed their newfound wealth. Years when the mansion on Stone Street was not an eyesore, but the celebrated "Ledgetop", the distinguished home of Walter Craft Witherbee.
The mansion on Stone Street has seen better days. Stones crumble from its two corner towers. Boards are missing from the expansive veranda. Shingles tumble from the roof on occasion, and gaping holes, some boarded up with rude slabs of wood have replaced hand-blown glass in most of the windows. The large cedar trees, once the property's pride and joy became wild and overgrown years ago, and weeds choke the lawn that at one time featured the finest swimming pool in Port Henry. To a casual observer, it appears the deserted structure is just minutes away from a final and total collapse into ruined oblivion.
Now when I go by the big stone building on the corner of Stone Street, I will think about Walter and Annie and their four children. I will think about the horses and carriages. I will think about Walter riding his horses while hunting fox with his dogs. I will think about the secret tunnels. I will think about the tulips, flowers and gardens. I will think about all of the big parties. I will think about the immigrants who worked at the mansion. I will think about how I always wondered about the big stone building and I will thank Poppy and Mrs. Daby for giving me the knowledge I needed and Linda and Jeff for the opportunity to work on this project.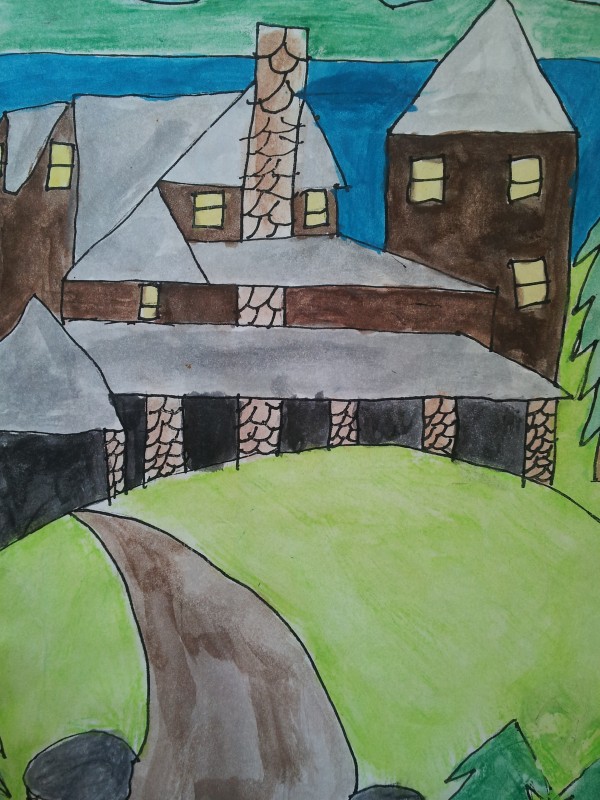 This site is maintained by the
Moriah Chamber of Commerce.