Raymond R. Wright Park
Raymond Wright Park was formerly a small park with a monument honoring World War I veterans. Numerous enhancements were made, upgrading the area to include a tribute to six local men who served our country in the Vietnam War.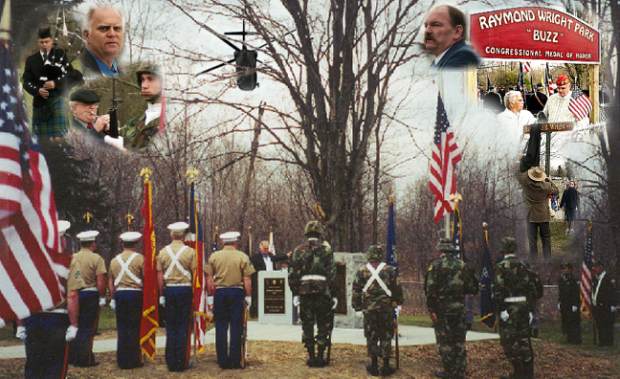 The Essex County Leathernecks of Ticonderoga and the 962nd Ordnance Co., U.S. Army Reserve of Plattsburgh stand at attention as Leonard Keller unveils one of the monuments. Images in top left corner include Bagpiper Sgt. Domenic Rickert, Bugler Bill Martin, and Leonard Keller, Medal of Honor Recipient. The "Fly-Over" of a Black Hawk helicopter was piloted by Neil Goodrich and Bill Bosserdet. Top right images include Gary Beikirch, Medal of Honor Recipient, Shirley Allen (sister of Mr. Wright) and Committee Member, Dick Finnessey after unveiling of Park sign, and Walter Rushby, Town of Moriah Supervisor, assisted by Mr. Wright's grandchildren, revealing roadway sign for "Raymond R. Wright Way." Photo montage by Tony Scialdone.

Five Moriah residents lost their lives in Vietnam and the sixth, Raymond "Buzz" Wright, was awarded the Medal of Honor. Raymond returned home -a hero- and was presented with the actual medal by the President. Mr. Wright passed away in September 1999.
A ceremony was held Saturday, Nov. 4, 2000, dedicating the "new" park -renaming it after Mr. Wright. Among the additions is a monument in tribute to Raymond and a monument honoring the other five servicemen:

John P. Drake, PFC US Army

David L. Jarvis, HM3 US Navy

Joseph J. Ribeiro, PFC US Army

Marcus W. Stoddard, PFC USMC

Michael D. Baker, SN US Navy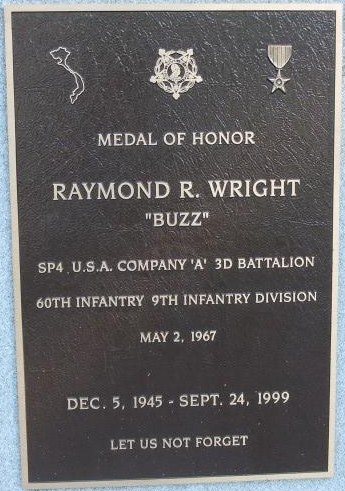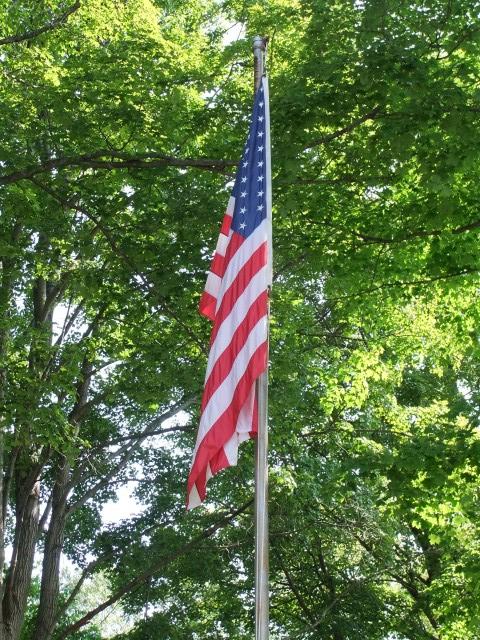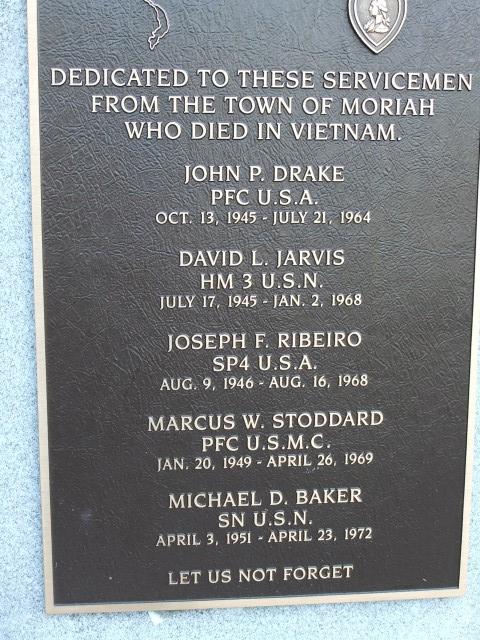 The flag flying at Raymond Wright Park was flown over the US Capitol on Oct. 17, 2000, in honor of Raymond Wright, and in honor of the five servicemen from the Town of Moriah that lost their lives in the Vietnam war.
Additional monuments at the park include memorials to Moriah residents lost in World War I and in Vietnam
... return to Hamlets and Neighborhoods page .
This site is maintained by the
Moriah Chamber of Commerce.