Blood, Sweat, & Beers 5K
The Blood, Sweat, & Beers 5K is happening at Raquette River Brewing, on May 20, 2023. The race begins at 1 p.m. with registration opening at 11 a.m.
Participate in an obstacle race through mud fields, and crazy Adirondack terrain!
Participants will start at Raquette River Brewing in downtown Tupper Lake and then head into the many acres of rugged Bencze family property. Spectators will be able to watch along the trail and when finished, enjoy an afternoon of live music by Bitter Sweet, good food, and great craft beer.
Schedule of Events
11 a.m. - registration opens
1 p.m. - race begins
3 p.m. - live music by BitterSweet
Start / Finish
The start/finish takes place at Raquette River Brewing, 11 Balsam Street, Tupper Lake NY
Aid stations: Multiple aid stations with water and Powerade will be set up along the course, there will also be a volunteer at every obstacle.
Baggage check: Bags can be left at the brewery.
Registration and packet pick up will be on race day, also race day registration will be available.
Parking
Limited parking located at Raquette River Brewing and Holy Name Church (cars must be gone from the church by Saturday night). There is also roadside parking. Anyone wishing to spectate can park at the end of Underwood Road (follow the signs) and walk to see the action.
Giveaways
Each participant receives a t-shirt and a drink token for the brewery.
Award Age Groups:
Male & Female under 18
Male & Female 18-35
Male & Female 36 & older
Registration
$50 for ages 12 and up
$25 for ages 12 and under
Proceeds to benefit the Tupper Lake Volunteer Ambulance & The Tupper Lake Food Pantry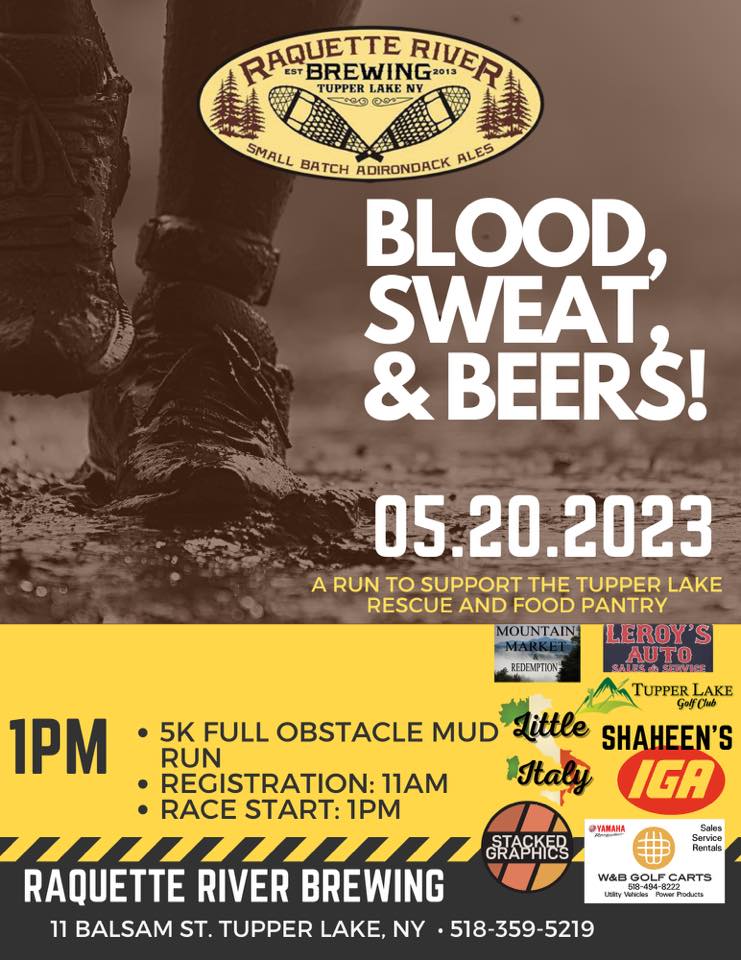 Location: